About Qamar Bradford
Qamar Bradford is a Business Specialist for the State of California Department of Rehabilitation (DOR) who fights the stigma of Ableism against People With Disabilities in the workforce. An alum of San Diego State University's Master's of Science program in Rehabilitation Counseling under the Cognitive Disabilities Certificate, he is also certified rehabilitation practitioner by the Commission on Rehabilitation Counselor Certification. His research interests include fighting biased cognition with logic structures; the role of psychosis in PTSD; improving self-identity through artistic self-visualization; virtual reality rehab technology; and preventing domestic violence through gender studies in men's rehabilitation.
A Biographical Excerpt:
As an African-American teenager growing up in San Diego, Southern California, East Asian epistemology was my basis for many things. My father was a part of the 70s Hong Kung Fu movie generation–which included Chuck Norris in its ranks–an era of trends that literally embodied martial arts. My dad was a young African American and in many ways a first generation immigrant of sorts. Unlike our other foreign national peers, for many African Americans we came from a country within a country, our port being the doorway of the deep South and Segregation Era USA to North and West and Integration Era USA. As my Asian-American friends like to uniquely think of themselves as the only "FOB"s (fresh off the boat) on American record, we African-Americans have always had the longest freshness shelf-life not fully gaining citizenship until the 1960's. So as many Asian Americans may see their cultural uniqueness incidentally, for guys like my dad in the 60s and 70s, Asian esoterics was an empowering escape from the constant battle of Black vs White.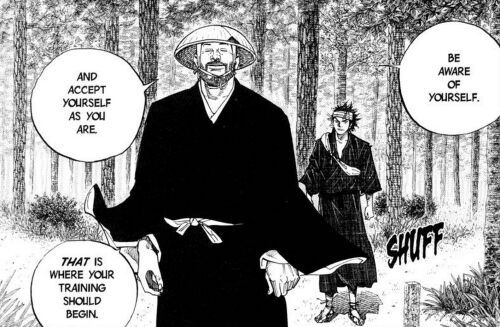 Accordingly, my dad raised me on these esoterics in conjunction with both my parents' pursuit of African-centered ethics and esoterics. Like him, I was enrolled in the South Korean martial art of Tang Soo Do, Mood Duk Kwan.
I read books on Buddhism and Taoism and made the connection that many Western academics like Thoreau, Nietzsche and Frankl came made in their conclusions via Eastern philosophical realizations (Jin-ping 2008) (Billimoria 2008) (Sharman 2015). And once I began immersing myself in my Japanese language studies for my bachelors, I was distinctly gravitated to the swordsman Miyamoto Musashi's peer Takuan Soho's counseling approach and accomplishn in feudal Japan.
I first read about Takuan Soho in the pages of a popular manga (Japanese comic book) by the famous author Takehiko Inoue entitled Vagabond which chronicled the life of the famous Japanese swordsman Miyamoto Musashi. Musashi, famous for pioneering two-handed fencing during the feudal era, began as a reckless vagabond who was brought toward enlightenment from his continued counselings with the monk Takuan Soho (Bryce 2010).
Takuan Soho's fame and influence permeated throughout Japan's feudal society, later solidified through a treatise on swordsmanship through letters to Musashi. These letters were eventually published as The Unfettered Mind (Soho 2012). They examined the cognitive aspect of focus, concentration and strategy amidst the frequent dueling atmosphere of the tumult and violence of their warlord dominated era. Despite the power of the historical players–warlords, samurai, politicians and capitalistic merchants–Soho served as an audacious critic, straightforwardly spoken and held in high regard far beyond his sphere of Zen Buddhist liturgy. Even to this day Japan has a pickled yellow daikon dish named for him: "takuan pickles".
Like Takuan Soho, I think it's important to be critical and not just reinforcing of the State Laws, especially as we become more knowledgeable of their origin and our reformist responsibility as inheritors of an industry.
The state of California ethics in the context of US History. Mad in America gave much insight into all the one lawful practices that contributed to many of the issues of inequality, poverty and instability of the USA. The body of regulation we see in Basics of California Law is the result of not just counselors upholding rules, but it is equally, if not more, the result of whistleblowers pursuing social justice and making the USA better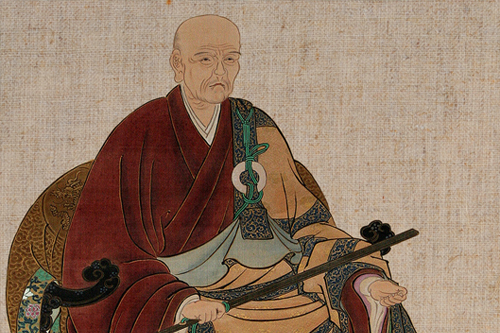 As Takuan Soho influenced lawmakers and power-holders of feudal Japan, Benjamin E. Caldwell points out that is also our role in the last chapter of the book, "Advocating for Changes in Law, Regulation or Policy." As he iterates in a quote, "It seems most therapists are unaware of just how much the BBS and the state Legislature hunger for their opinions". The problems of informed policy is apparent and pervasive (Caldwell 2015, 236).
And in many ways it's telling how acute, pointed and factual counsel like that which Soho provided is in many ways is deeply needed.
For American Vocational Rehabilitation counselors, if we work within the framework of the US Constitution–a basis of Universal Rights and Maslowian Needs–we have to understand that the ultimate job of our profession is to realize egonomic methodologies for organizational development, economic interaction and physical adaptation of us as human beings along with our environment (Bay 1968).
Industrial-Business Needs x Legal Policy x Universal-Maslowian Needs
| | | |
| --- | --- | --- |
| Industry-Business that meet Human  Needs | Legal Policy | Human Universal/ Maslowian Needs |
| Business/ Industry that meet physical/ biological needs | Laws that ensure physical biological needs | Commerce and law rooted in Physical biological needs |
| Business/ Industries that meet human safety needs | Laws that ensure safety needs | Commerce and law rooted in Safety needs |
| Business/ Industries that meet human affection belonging needs | Laws that ensure affection belonging needs | Commerce and law rooted in Affection belonging needs |
| Business/ Industries that meet human self-esteem needs | Laws that ensure self-esteem needs | Commerce and law rooted in Self-esteem needs |
| Business/ Industries that meet human self-actualization/ self-development needs | Laws that ensure self-actualization or self development needs | Commerce and law rooted in Self-actualization or self development needs |
Implication for areas of reforms not yet addressed would have to focus on not just rehabilitation of people, but also of businesses so they have a social responsible role in society. Considering making changes away from the WASP foundations of the nation ultimately means making sure business and industry serve their biological purposes in supporting human life. Disability theory revolves around axis of ability-inability/ capacity-incapacity. I feel the future reform of the disability industry is inevitably headed toward Labor Market Ergonomics.
I think as counselors, we ultimately must make unpopular decisions if they can help us accomplish a future of access, independence and equality for not just the USA, but also the world stage as technology and wealth disseminates.
---

Q. A. Bradford
San Diego, CA
qabproserv.com
Jin-ping, Z. H. O. U. (2008). Buddhist Ideas in Thoreau's Walden. Journal of Anqing Teachers College (Social Science Edition), 8, 025.
Bilimoria, P. (2008). Nietzsche as 'Europe's Buddha'and 'Asia's Superman'. Sophia, 47(3), 359-376.
Sharma, M. (2015). Trans-personal & Psychology of the Vedic System: Healing the Split between Psychology & Spirituality. International Journal of Yoga and Allied Sciences 1(4), 41-48.
Bryce, M., & Davis, J. (2010). An overview of manga genres. Manga. An Anthology of Global and Cultural Perspectives. Nueva York: Continuum, 34-61.
Soho, T. (2012). The Unfettered Mind: Writings from a Zen Master to a Master Swordsman. Shambhala Publications.
Takehiko, I. (2002). Vagabond. Egmont-vgs-Verlag-Ges.
Bay, C. (1968). Needs, wants, and political legitimacy. Canadian Journal of Political Science, 1(03), 241-260.