A CBT Approach to Photography
When we participate in photographing and being photographed we are also engaging in mirror-gazing, but in a positive and prolonged fashion. Artistic figure modeling allows us to understand the plastic nature of our bodies and how we have enough power over our aesthetic to affect all the formal artistic principles such as negative and positive space, symmetry, radial balance, color theory, mood, etc. In the nude we find liberty and separation from both our form and sexuality. We find out which parts of our bodies imbue us with strength or which parts imbue us with vulnerability. And like any practice in Mindfulness, photography freezes that moment in time so that we can meditate upon it and seek enlightenment. It allows us to realize that we have no "flaws" but instead just rich, meaningful detail which we can accentuate as loudly or as quietly as we'd like.
My photographic approach at QABPROSERV,COM focuses on these aspects in Western psychological health, Eastern awareness and African-American creative channeling. As a working model for several years, I share my personal guidance on physical awareness, poise, libidinal expression, spiritual inspiration, professional negotiation, masculinity and more. This information is also accentuated by professional-level education in Linguistics, Arts, Vocational Rehabilitation Counseling and traditional Korean Martial Arts. And to top it off, I include my cultural intuition and understanding about the nature of Artist and Muse via my African-American heritage that has a lineage traced from Negro Spirituals and Hoodooism to the Continental source of Vodun, spiritual mounting and masquerade.
Incorporating philosophy, counseling and arts has been a evolutionary process built off of professional training and experience spanning martial arts, visual arts, education, counseling and academia. My modeling experience includes simple fashion, editorial, traditional life drawing, highly adult erotica. One of the most valuable lessons I have been able to apply from counseling is understanding Maslow's Needs Hierarchy as they apply to human capacity. Not only is my physical artistry inclusive of a second degree black belt in martial arts and cross training in yoga and weightlifting, my formal education on the arts includes curriculum on the Renaissance, modern art, Japanese art from Osaka University of Arts and a rich philosophical basis in Pan-African arts. As a model not only do I bring the sensual mastery of my body, I also bring a sophisticated epistemology of aesthetics.
Read more on my unique philosophy on modeling on the long-running blog Favorite Hunks.
---
① Marketing Sessions: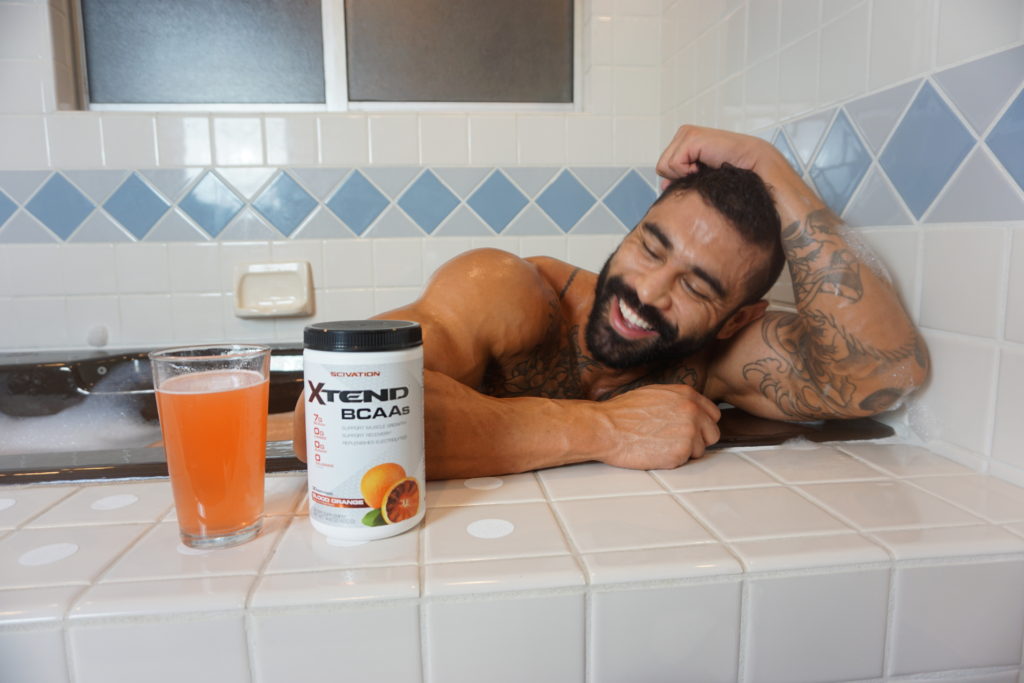 This session is more casual and allows you to capture and develop your general professional image. Much like fashion analysis, this allows you to cover the general gamut of your confidences and also gather personal data on your own psychology with an assortment of optional exams. like DiSC, Myers-Briggs, RIASEC, etc. The session includes portrait, body measurements and figure analysis.
This session is ideal for individuals interested in fashion photography or just developing professional images for their job search.
Marketing Sessions are prerequisite for sessions 2 and 3 unless a supplementary portfolio is provided.
1. Application Interview/ 2. Assesssments/ 3. Video Interview & Headshots
---
② Physique Sessions: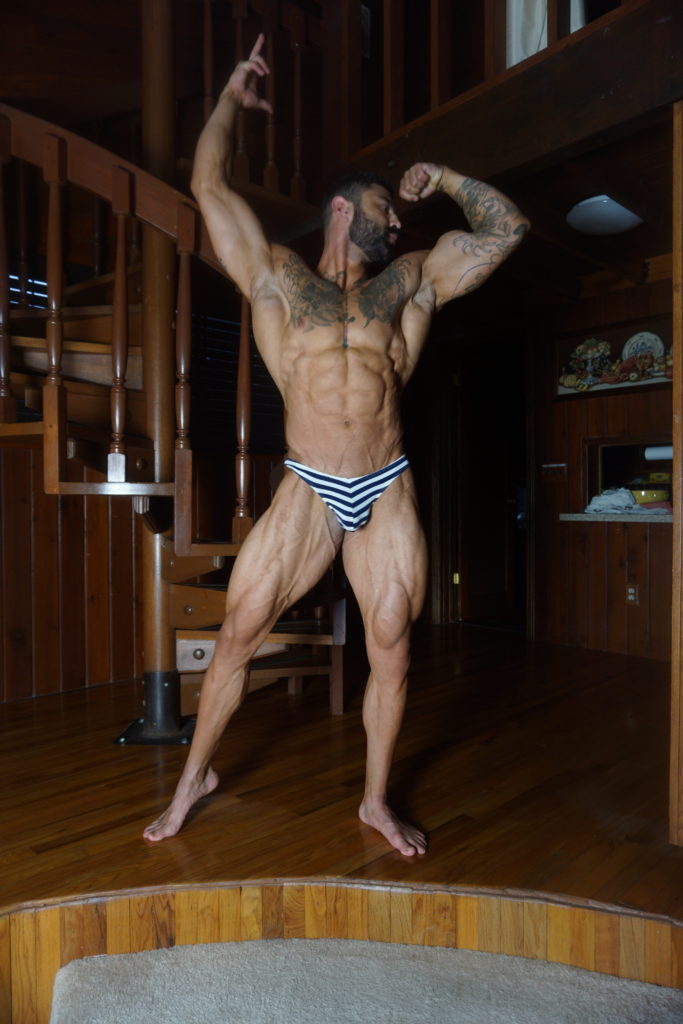 This utilizes photography to give you an analytical view of your form and assess what you like and where you'd like to improve. Combined with my own philosophical health and fitness approach Gekkyoudou™, we'll develop strategies you can implement including establishing concentration areas of isolated resistance training; specific limbering exercises for maintaining musculoskeletal health; all-context confidence building exercises to be exhibition-ready in any public arena; and lastly styling and fashioning aesthetics, focusing on what male styling–hairstyle, body hair, body art, fashion, etc..–are ideal is establishing your brand and aesthetic.
Physique Sessions are prerequisite for session 3 unless a supplementary portfolio is provided.
1. Baseline Training/ 2. Gekkyoudou Tutorial/ 3. Physique Shoot
---
③ Boudoir Sessions: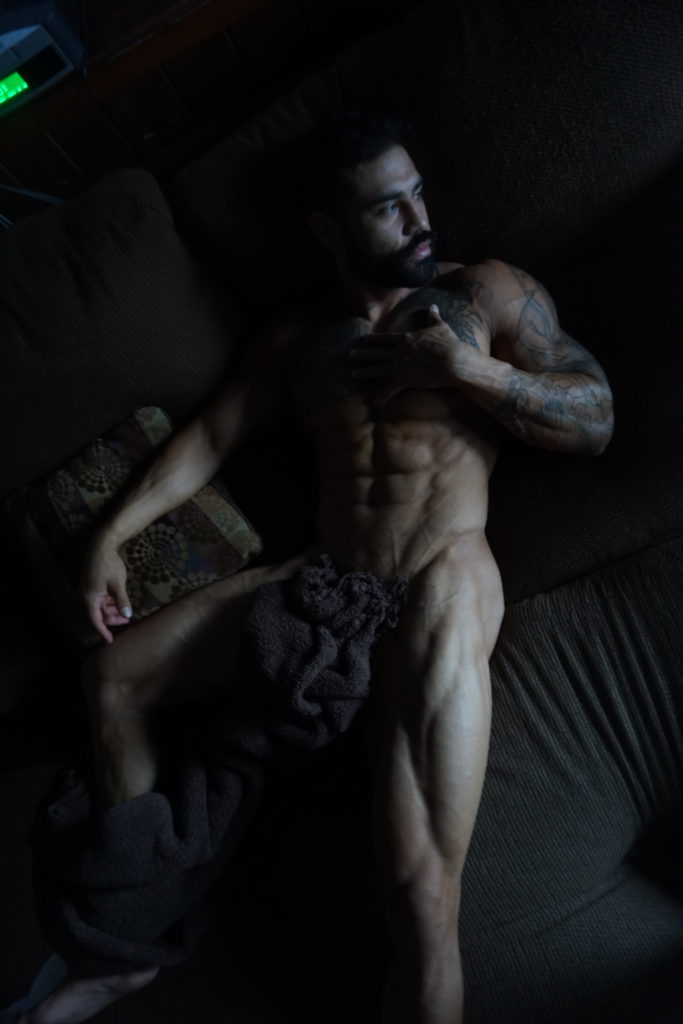 We arrange an evening and review some basic poses and angles for photography. And then strategically catch the allure of the model using the natural early morning light. For professional reasons the boudoir session cannot be hosted in-studio. However in the private environment, confidentiality can be maintained along with the signature of liability release and waiver. The session allows you to bridge the gap from simplistic intimate awareness as an individual to becoming the exhibitionist channel of confidence that an artist's muse exudes about even the most private aspects of their bodies. In this we create an environment where you feel appreciated, valuable and substantial about your entire physical geography. This photography incorporates principles of intimacy following a format as close to the principles of the International Professional Surrogate Association as possible–an ethical foundations I admire and aspire toward.
Boudoir Sessions are ideal for actors, performers and bodywork professionals who are actively marketing in their profession and want to maintain a sharp awareness as they are both spokesperson and technician behind their brand.
Marketing and Physique Sessions are prerequisite for session 3 unless a supplementary portfolio is provided that demonstrates both Marketing and Physique,.
1. Intimacy Assessment/ 2. Pose tutorial/ 3. Boudoir Shoot
"I think part of being masculine is not needing to prove it and not needing to answer for it."

–Corey Stoll
Not Just A Woman's Problem
According to the Phillips, et al. studies have indicated that as much as 43% of American men have dissatisfaction with their bodies and its subsequent appearance (Phillips 2001). The research finds that men seek non-psychiatric treatment like plastic surgery, dermatology, supplements, fitness, etc., often under the impression that there is an ever evasive "defect" about their bodies. Many men are reported to spend large amounts of time seeking treatment for their skin; seeking plastic surgery; or obsessive detail in their exercise and diet. The research notes "Men with body dysmorphic disorder are most commonly preoccupied with their skin (for example, with acne or scarring), hair (thinning), nose (size or shape), or genitals." (Phillips 2001, p1).
The manifestation of these obsessive problems contribute to body dysmorphic disorder/ dysmorphophobia and muscle dysmorphic disorder/ "bigorexia". "Bigorexia" can be especially unique in that men who experience it are not only muscular, but sometimes exceptionally or ideally muscular (Pope 2005). In all cases, the condition can often be noted as disabling when it impairs socialization, job performance, attaining employment, quality of mental health; and has significantly lead to the abuse of anabolic steroids, severe isolation or even suicidal ideation (Phillips 2001, p1). In a another study even the increased likelihood of violent behavior was also suggested (Lucas 2002). The evidence that a healthy self-image for men is an absolute necessity rather than just a narcissistic luxury is more than apparent.
Learning How to Look Again
Fortunately Phillips et. al. also indicates that Cognitive Behavior Therapy (CBT) is also as effective in establishing healthier body norms as the use of medication (Phillips 2001, p2). Veal supports an approach for CBT that creates a healthy ethic when we mirror-gaze composed of several points:
1) "Use mirrors at a slight distance and use ones that are large enough to show most of the body";
2) "Focus attention on the reflection in the mirror rather than on how you feel";
3) "Use a mirror only for an agreed function (e.g. shaving, putting on make-up) and for a limited period of time";
4) "Use a variety of different mirrors and lights rather than sticking to the one you 'trust' ";
5) "Focus attention on the whole of your face rather than on selected areas";
6) "Do not use mirrors that magnify";
7) "Do not use ambiguous reflections (e.g. windows, the backs of compact disks or cutlery)";
8) "Do not to use a mirror when you feel depressed: try to delay essential use until you feel happier or find other things to do until the urge to mirror-gaze has passed" (Veal 2001, p 131).
Veal essentially outlines an approach on how to look at ourselves aesthetically. Just as in art appreciation, even with ourselves, there is a formal and trained way to look. We have to understand it is not just the arrangement of paint or shapes on a canvas or plane–nor is it just the configuration of skin, fat, muscle and bone structure around our souls–but its also the story, emotions, thoughts and meanings that make the aesthetic and value. Veal finds the fundamental flaw in thought is "overgeneralization in which the 'self' is identified only through the external appearance (the person is an aesthetic object) and all other values and selves are diminished." (Veal 2001, p131) And rightly so, we are more than an aesthetic object. Like all artwork we are objects of meaning that coincidentally also hold an aesthetic value over which we have significant influence.
Citations
Phillips, K. A., & Castle, D. J. (2001). Body dysmorphic disorder in men : Psychiatric treatments are usually effective. BMJ : British Medical Journal, 323(7320), 1015–1016.
Pope, C. G., Pope, H. G., Menard, W., Fay, C., Olivardia, R., & Phillips, K. A. (2005). Clinical features of muscle dysmorphia among males with body dysmorphic disorder. Body Image, 2(4), 395–400. http://doi.org/10.1016/j.bodyim.2005.09.001
Lucas, P. (2002). Violence may be serious in men with body dysmorphic disorder. BMJ : British Medical Journal, 324(7338), 678.